Pastime
---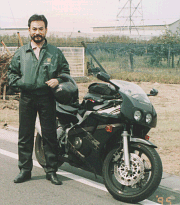 This was my motor cycle: Honda CBR-RR 400 sports bike. I loved to speed on this power machine down highways at leisure. This is the last CBR model without the speed limiter device. I have gone on touring a lot, alone most of the time. I have some experience of bike touring around Western part of the United States -- California, Arizona, Utah, Colorado, New Mexico, and Nevada -- all by myself and that was so much fun. Against my will, I was forced to sell this bike the year we had our first child born. My wife hates motorcycles and she didn't want to become a poor widow with a baby in her arms. I miss my bike a lot.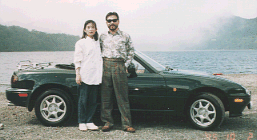 This was my car (and my wife). I loved to drive this Mazda RoadSter convertible, especially when the weather was fine, with the soft top down. The car was equipped with a gorgeous 8-speaker sensory (body sonic) stereo soud system with CD and a GPS navigation system plus TV set, so I had so much fun even when the car was caught up in the middle of traffic jam.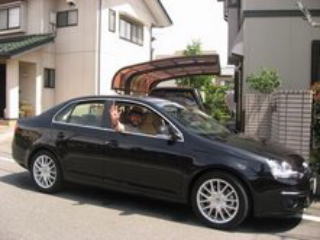 This is my new car, Volkswagen Jetta Sportsline. It has an intercooler-turbo charged 2000cc engine, which produces 200hp. It also has the cutting edge transmission technology called DSG. The interior shines with leather seats in beige. The front seats also have seat heaters. The navigation system is combined with HDD surround music player with 10 speakers, ETC, DVD, and full segment digital TV, which entertains passengers with magnificently beautiful images.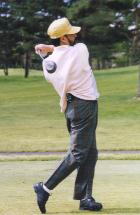 Karuizawa 72, May 5, 1999
I love to play golf. I am a member of Akagi International Country Club. I almost never turn down an invitation to play golf with anybody on any day (as long as I am free). I often change my gears, from the driver to the putter, to brand new ones usually every other year. I'm all ready to take on a challenge from anyone.

I love to play tennis. I had been a member of Maebashi Minami Tennis Club until some years ago. I take a break from work from time to time and enjoy playing a game or two with my colleagues. I've been away from competitive tennis for so many years, because my church service responsibilities have grown heavy.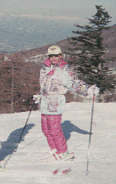 I love to go skiing. I've been skiing since I was 12. I think I'm lucky to be a Gunma native. Gunma Prefecture is blessed with numerous ski resorts and spas. So, in winter, Gunma becomes a ski paradise. I consider myself even more lucky to be a college teacher, because Japanese colleges and universities have winter recess in February and March. That's the time we enjoy going skiing, when the ski slopes are not very crowded.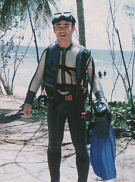 I love to go scuba diving. I learned diving when I was in California. I have been scuba-diving to Guam, Saipan, and the coast of Niigata. I used to get together with my friends and go to Niigata, Sado island, or Awa island for diving every summer, but I've got too old for such outings.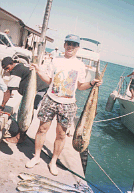 I love to go fishing. This photo shows one of the fishing occasions, when we were in Saipan going out for trolling and caught 8 sealas(SP). That was the best fishing trip we'd ever had. I used to enjoy fishing along with diving off the Niigata coast.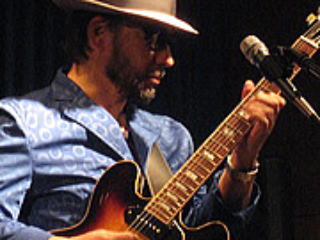 I love to play the guitar. I have a collection of Ovation Anniversary model, a Gibson Les Paul Standard Classic, a Yamaha acoustic guitar, a generic StratoCaster, another Fender StratoCaster Jeff Beck Model 2001, Ibanez George Benson Model (GB-10), a Yamaha SG electric guitar and many more. I just bought a new amplifier Fender Hot Rod 3. This amp sounds absolutely fantastic! I used to play hard rock music in a band, but these days, I play mostly blues, as well as praise songs and other melodius tunes. If you are a kind of person to go to music bars and "live houses", you might find me playing blues or vintage rock on stage. Here are some photos of the gigs we had.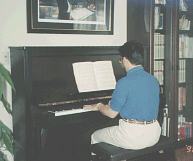 I love to play the piano. This is the piano we bought some years ago and we are very pleased with the sound. On this I play the Beatles songs, praise songs, and other pop and standard tunes. I sometimes play at church services as well, but I'm not very good, I confess.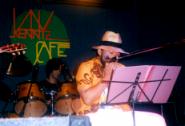 I love to play the blues harmonica. I've been playing the harmonica since I was 14. I once took a distance harmonica course on blues harps, but my harmonica skills haven't improved as I had expected. (I had spent 40,000 yen for this course!) I once joined the Blues Society of Gunma, and we jammed on the second Saturdays in Takasaki regularly. That was one of my favorite time to play the harmonica. These days I mainly play electric blues on guitar, though..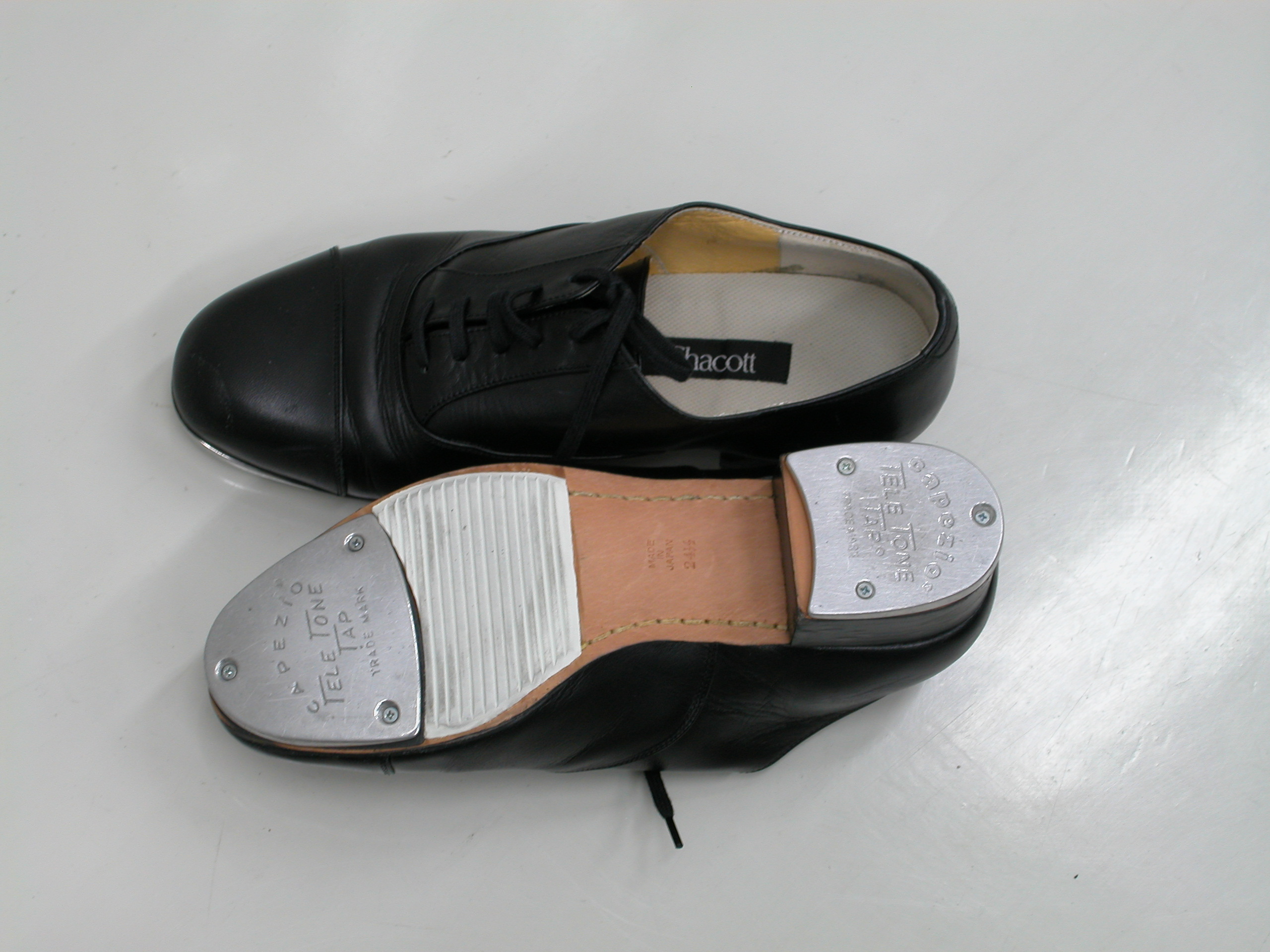 This is my tap shoes. I love to tap dance. I started to take tap lessons in 2004. I'm not a very good dancer but I enjoy tapping to the beat and it helps me stay in shape. Well, at least it's a good and healthy exercise for sure, but@the next morning I must confess my feet feel sore. It's a regret that I had to quit the lesson after 8 years when my daughter quit in order to prepare for college entrance examinations.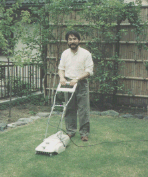 I love gardening. Since we had our house built in 1993, we started to plant many trees and flowers in the yard and the garden of our house. Spring time is the best time to watch all the flowers and the buds come blooming and growing all at once. I love to take care of these trees and mow the lawn.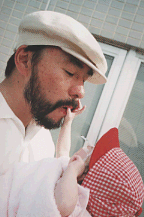 I used to love to play with my daughter Irene. I enjoyed teaching her English as we play games together. Howerver, those days are things of the past. Now she has grown and she tries to stay away from me. Alas!